The EJK Foundation has identified themes that may be of interest because of the universal experience of the subjects and therefore the rich possibilities for animated student discussion. Please choose a theme to see a synopsis of that theme and the associated list of books.
---
Community
These books introduce communities in which people live, work, and play together in beneficial ways that aid, support, and encourage their members. The characters value one another and their shared spaces.
---
Emotions and Feelings
Social emotional learning builds on recognizing and managing one's emotions. These books introduce characters who are feeling intense emotions, both positive and negative, and who find ways to respond to their feelings constructively, either on their own or with the help of other people.
---
Families
The books portray relationships and interactions among young characters and their parents, grandparents, siblings, and other individuals who comprise their closest communities. The families are different, but each one radiates love, support, and encouragement.
---
First Day of School
These books share the anticipations and anxieties of children and parents who are beginning a new school year, providing validation of the characters' feelings and reassurance that the first day may not be as scary as they initially thought.
---
Friendship
These books honor friends who help, teach, encourage, and play with one another, showing how essential true friendships are to a full life.
---
Identity
Discovering who you are is an essential component of social emotional learning and gaining independence and confidence. In these books, characters explore their personal, familial, and cultural identities and become proud to express who they are.
---
Immigrants and Refugees
These stories highlight aspects of the immigrant and refugee experience, such as leaving behind relatives and friends, learning new languages, and adjusting to new cultures and circumstances. They are told through the perspectives of first and second generation immigrants.
---
Loss
These books feature characters responding to loss, such as the loss of a family member, friend, pet, or home. Learning to grieve is a difficult but essential part of social emotional learning.
---
Pets and Farm Animals
These books depict the joys and responsibilities of caring for animals at home and on farms, as well as the companionship, entertainment, and love provided by the animals.
---
Poetry
These stories offer different examples of poetry, such as rhymes, list poems, cumulative poems, and odes, while also expanding the possibilities of what a poem can be and how it can be portrayed visually, as well as textually.
---
Seasons and Nature
These stories celebrate the wonders of nature and the four seasons, while also recognizing the sometimes harsh realities that are part of the natural world.
---
Self-Esteem
A positive self-image provides a foundation for social emotional learning. As the characters in these books navigate difficult or unfamiliar situations and master new skills, they develop greater self-knowledge, accompanying confidence, and increased independence.
---
Strong Girls
These books feature female protagonists who demonstrate strength of mind and spirit in a variety of ways, situations, times, and places.
---
2023 Illustrator Award
Doug Salati
Hot Dog
2023 Illustrator Honor
Chioma Ebinama
Emile and the Field
2023 Illustrator Honor
Zahra Marwan
Butterflies Fill the Sky
2023 Writer Honor
Juliana Perdomo
Sometimes All I Need is Me
2023 Writer Honor
Pauline David-Sax
Everything in its Place
2022 Illustrator Award
Gracey Zhang
Lala's Words
2022 Illustrator Award
Kenesha Sneed
Many Shapes of Clay
2022 Writer Honor
Anne Wynter
Everybody in the Red Brick Building
Illustrated by Oge More
2022 Writer Award
Paul Harbridge
Out Into the Big Wide Lake
2021 Illustrator Award
Steve Small
I'm Sticking With You
Written by Smriti Prasadam-Halls
2021 Illustrator Award Winner
Heidi Woodward Sheffield
Brick by Brick
2021 Writer Honor
Jarrett & Jerome Pumphrey
The Old Truck
2021 Writer Honor
Raymond Antrobus
Can Bears Ski?
Illustrated by Polly Dunbar
2021 Writer Award
Tricia Elam Walker
Nana Akua Goes to School
Illustrated by April Harrison
2021 Illustrator Honor
Victoria Tentler-Krylov
The Cyclops of Central Park
Written by Madelyn Rosenberg
2020 Writer Honor
Matthew Farina
Lawrence in the Fall
Illustrated by Doug Salati
2020 Writer Honor
Mariahadessa Ekere Tallie
Layla's Happiness
Illustrated by Ashleigh Corrin
2020 Illustrator Honor
Doug Salati
Lawrence in the Fall
Written by Matthew Farina
2020 Illustrator Honor
Kate Read
One Fox: A Counting Book Thriller
Written by Kate Read
2020 Illustrator Honor
Zeke Peña
My Papi Has a Motorcycle
Written by Isabel Quintero
2020 Illustrator Award
Ashleigh Corrin
Layla's Happiness
Written by Mariahdessa Ekere Tallie
2020 Writer Award
Sydney Smith
Small in the City
Illustrated by Sydney Smith
2019 Writer Honor
Juana Martinez-Neal
Alma
Illustrated by Juana Martinez-Neal
2019 Illustrator Honor
Jane McGuinness
Prickly Hedgehogs!
Written by Jane McGuinness
2019 Writer Honor
Keith Calabrese
Lena's Shoes are Nervous
Illustrated by Juana Medina
2019 Writer Honor
Matt James
The Funeral
Illustrated by Matt James
2019 Illustrator Honor
Jessica Love
Julián is a Mermaid
Written by Jessica Love
2019 Writer Award
John Sullivan
Kitten and the Night Watchman
2019 Illustrator Award
Oge Mora
Thank you, Omu!
2018 Writer Honor and Illustrator Honor
Bao Phi / Thi Bui
A Different Pond
2018 Writer Honor
Rachael Cole
City Moon
Illustrated by Blanca Gómez
2018 Illustrator Honor
Gordon C. James
Crown: An Ode to the Fresh Cut
Written by Derrick Barnes
2018 Writer Award
Derrick Barnes
Crown: An Ode to the Fresh Cut
Illustrated by Gordon C. James
2018 Writer Honor
Jessixa Bagley
Laundry Day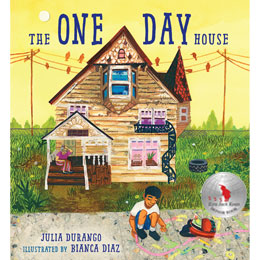 2018 Illustrator Honor
Bianca Diaz
The One Day House
2018 Writer Honor
Elaine Magliaro
Things to Do
Illustrated by Catia Chien
2018 Illustrator Honor
E.B. Goodale
Windows
Written by Julia Denos
2017 Illustrator Honor
Daisy Hirst
The Girl with the Parrot on Her Head
Written by Daisy Hirst
2017 Illustrator Award
Micha Archer
Daniel Finds a Poem
2017 Writer Honor
Stacy McAnulty
Excellent Ed
Illustrated by Julia Sarcone-Roach
2017 Writer Award
Jeri Watts
A Piece of Home
Illustrated by Hyewon Yum
2016 Illustrator Honor
Ryan T. Higgins
Mother Bruce
2016 Illustrator Honor
Rowboat Watkins
Rude Cakes
2016 Writer Honor
Megan Dowd Lambert
A Crow of His Own
2016 Writer Honor
Julia Sarcone-Roach
The Bear Ate Your Sandwich
2016 Illustrator Award
Phoebe Wahl
Sonya's Chicken
2015 Writer Award
Chieri Uegaki
Hana Hashimoto, Sixth Violin
2015 Illustrator Award
Chris Haughton
Shh! We Have a Plan
2015 Illustrator Honor
Mike Curato
Little Elliot, Big City
2015 Illustrator Honor
Evan Turk
Grandfather Gandhi
2015 Writer Honor
Misty Copeland
Firebird
2015 Writer Honor
Alan Rabinowitz
A Boy and a Jaguar
2015 Writer Honor
Adam Auerbach
Edda: A Little Valkyrie's First Day of School
2014 Illustrator Honor
Aaron Meshon
Take Me Out to the Yakyu
2014 Writer Award
Ame Dyckman
Tea Party Rules
2014 Illustrator Award
Christian Robinson
Rain
2014 Illustrator Honor
Marta Altés
My Grandpa
2014 Illustrator Honor
K.G. Campbell
Tea Party Rules
2014 Writer Honor
Linda Davick
I Love You, Nose! I Love You, Toes!
2014 Writer Honor
Pat Zietlow Miller
Sophie's Squash
2013 Illustrator Award
Hyewon Yum
Mom, It's My First Day of Kindergarten!
2013 Writer Award
Julie Fogliano
And Then It's Spring
2013 Illustrator Honor
Sanjay Patel
Ganesha's Sweet Tooth
2013 Illustrator Honor
K.G. Campbell
Lester's Dreadful Sweaters
2012 Illustrator Honor
David Ercolini
Not Inside this House!
2012 Illustrator Award
Jenny Sue Kostecki-Shaw
Same, Same but Different
2012 Writer Honor
Jenny Sue Kostecki-Shaw
Same, Same but Different
2012 Writer Award
Meg Medina
Tía Isa Wants a Car
2012 Writer Honor
Nicola Winstanley
Cinnamon Baby
2012 Writer Honor and Illustrator Honor
Anna Witte (writer) and Micha Archer (illustrator)
Lola's Fandango
2011 Writer Award
Laurel Croza
I Know Here
2011 Illustrator Award
Tao Nyeu
Bunny Days
2010 Illustrator Award
Taeeun Yoo
Only a Witch Can Fly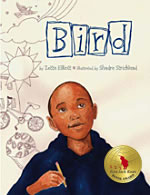 2009 Illustrator Award
Shadra Strickland
Bird
2009 Writer Award
Stian Hole
Garmann's Summer
2008 Writer Award
David Ezra Stein
Leaves
2008 Illustrator Award
Jonathan Bean
The Apple Pie that Papa Baked
2007 Writer Award
Kelly Cunnane
For You Are a Kenyan Child
2007 Illustrator Award
Kristen Balouch
Mystery Bottle
2006 Writer Award
Mary Ann Rodman
My Best Friend
2006 Illustrator Award
Yunmee Kyong
Silly Chicken
2005 Illustrator Award
Ana Juan
The Night Eater
2004 Illustrator Award
Gabi Swiatkowska
My Name Is Yoon
2004 Writer Award
Jeron Ashford Frame
Yesterday I Had the Blues
2003 Writer Award
Shirin Yim Bridges
Ruby's Wish
2002 Illustrator Award
Jerome Lagarrigue
Freedom Summer
2001 Illustrator Award
Bryan Collier
Uptown
2001 Writer Award
D.B. Johnson
Henry Hikes to Fitchburg
2000 Writer Award
Soyung Pak
Dear Juno
1999 Writer Award
Stephanie Stuve-Bodeen
Elizabeti's Doll
1997 Writer Award
Juan Felipe Herrera
Calling the Doves (El canto de las palomas)
1995 Writer Award
Cari Best
Taxi! Taxi!
1995 Writer Award
Cari Best
Taxi! Taxi!
1993 Writer Award
Faith Ringgold
Tar Beach
1991 Writer Award
Angela Johnson
Tell Me a Story, Mama
1989 Writer Award
Yoriko Tsutsui
Anna's Special Present
1987 Writer Award
Juanita Havill
Jamaica's Find
1986 Writer Award
Valerie Flournoy
The Patchwork Quilt
Writer Honor
Yoriko Tsutsui
Anna's Special Present