2022 EJK Award Winners
Meet the outstanding scholars, editors, librarians, authors and illustrators who chose the 2023 EJK Award and Honor recipients. We couldn't be more proud!
Mock EJK Award
Over 80 educators from across the country signed!
Your students are the judges and using actual EJK Award protocol based criteria, they pick their own Mock EJK Award winning books!!
Documentary Film
Tell Me Another Story: Open Access
• 30 minute Documentary
• Compelling History of Diversity in Children's Literature
• In-depth Discussion Guide for a Classroom or Group
Tools for Teachers and Librarians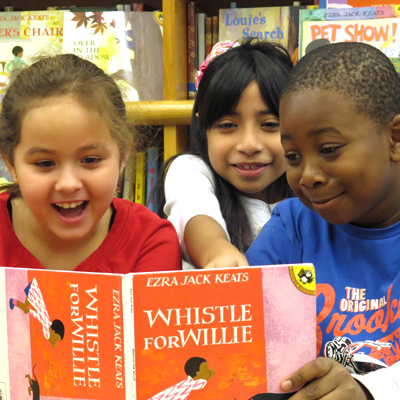 Virtual and In-Person learning tools
• Book Discussion Guides use EJK Award books for pizzazz
• Mock EJK Award promotes engaged reading
• Read Aloud Guide new tips for old pros
• Keats Author Study tools to inspire kids with EJK classics
EJK Bookmaking Competition

NYC EJK Bookmaking Competition
The Competition has inspired thousands of students to take pride in their reading and writing by showing them they can actually enjoy improving their literacy skills.
EJK Mini-Grants

Applications Postponed Until Spring 2024
The Snowy Day
EJK Bookmaking Competition
Make reading, writing and illustrating fun for your students. For public schools (grades 3–12)
Listen - Play - Create
Games and Read alouds!
About Ezra
Ezra Jack Keats changed children's literature with the success of his groundbreaking book, The Snowy Day, in 1962. He believed all children should be able to see themselves in books they love.
Read More about Ezra Jack Keats